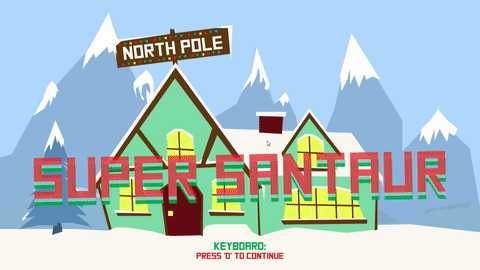 Super Santaur
A downloadable game for Windows
Sanatur was karate chopping pine trees down in the forest when he heard a commotion from The North Pole.
Evil Holiday Bats and Ghost Squids had stolen all the holiday spirit and retreated to their Eternal Cave of Despair.
Once again, Santaur is on a one way mission to save the world!

Gameplay & Controls:
Adventure, Platformer, Infinite Scroller & Shooter

A+D = Left + Right
Mouse= Aim

By: Taylor Dunn, Stephen Roper & Josh Watson.
Follow us on Twitter @ZamboniMacaroni

Tech:
Game Maker
Adobe Illustrator
Ableton Live 9
Spriter Pro
Windows & Mac OS X

Thanks for playing!

KNOWN JAM ENTRY FEATURES/BUGS:
-health glitch w/ enemy damage
-some lighting w/ pillars & trees
-joke art cropped odd sometimes
-homing mints only effect bats
-too much fun?